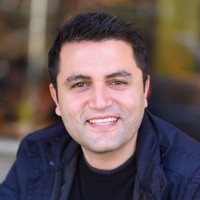 Farid Sharifi
Director of Business Development
Richmond Hill, Ontario, Canada
Evernate is a Canadian dietary and nutritional supplement company with a manufacturing facility in New Jersey, US. In a very short period of time, Evernate has earned the trust of a wide range of dietary and nutritional supplement consumers in this highly competitive and growing marketplace.



Evernate works directly with its virtuous manufacturing partners in California, US to produce its high-quality products by applying the premium ingredients sourced from countries such as Canada, the United States, and Italy.



Products and Services: Bromelain / Ever Young / Ever Shinny / Ever Radiant / Ever Clear / B Complex / Ever Beauty / Biotin / Collagen Peptides / Bone and Joint / Digest and Weight / Heart and Blood / Immune System / Mean's Health / Sport Nutrition / Stress and Sleep / Teeth and Gum / Women's Health.
Recent Chats
Share via email
Future: handle WhatsApp here
Future: handle LinkedIn here
Future: handle Twitter here
Share via Chat
Copy Link