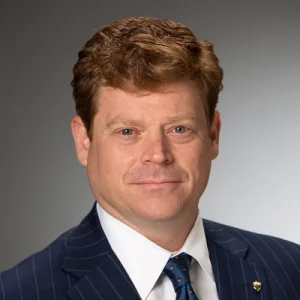 Rick Nagel
Managing Partner & CEO
As the Managing Partner of Acorn, Rick Nagel leads the strategic direction of the firm and its portfolio assets.

Nagel first served Acorn as an Advisory Board Member and in 2004 joined as a partner, launching the firm's private equity practice. He leads and is responsible for Acorn's current geographic footprint, fund operations, fundraising activity, investment deal generation, portfolio integrations and performance improvement initiatives.

Since joining Acorn, the firm has closed more than 30 transactions in areas that include advanced manufacturing, government IT services, defense electronics, engineering services, aircraft financing and leasing, intelligence, surveillance, reconnaissance (ISR), maintenance repair overhaul, modernization and upgrades, radar, satellite communications, airborne logistics, air cargo, value-added distribution, unmanned aerial systems (UAS) and counter unmanned aerial systems (C-UAS).
Oklahoma City, United States
Aerospace
,
Defense & Security
Acorn Growth Companies is a middle-market private equity firm focused exclusively on aerospace, defense, intelligence, and space markets. Acorn invests in operating companies that strive to enhance global mobility, protect national interests, and develop next-generation intelligence gathering technology.



With operational expertise and ability to lead and manage investments through variable economic and industry cycles, Acorn works in tandem with management to build its portfolio companies into significant market leaders.



Products and Services: aerospace, defense, intelligence, space, investments, research, design, manufacturing, maintenance, operations of aircraft, spacecraft, military systems, composites, finance, defense electronics, services, materials, integrated defense, engineering, software solutions
Recent Chats
Share via email
Future: handle WhatsApp here
Future: handle LinkedIn here
Future: handle Twitter here
Share via Chat
Copy Link