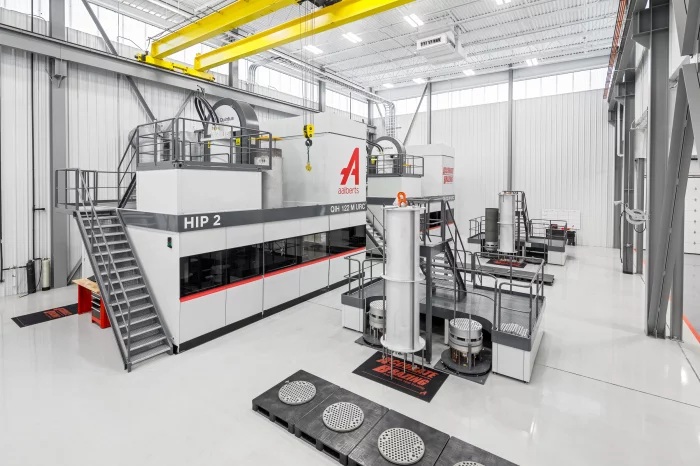 Hot Isostatic Pressing')>
Effective with Almost All Materials
Including a large range of alloys- Titanium, Steels, Aluminum, Copper, Magnesium
Improves Material Properties
Fatigue resistance, creep, ductility, and workability
Densifies, Repairs, and Creates a Uniform Microstructure
Eliminate internal porosity and achieve 100% theoretical density
Optimize Your Supply Chain
We offer multiple post-processing steps under one roof
HIP: for the improvement of mission-critical parts
Max Pressure :
30,000 psi
Max Temperature :
2,282 F
Max Cooling Rate :
390 F/minute
Description
More Products & Services
Description
Hot Isostatic Pressing (HIP) is a proven process for high pressure heat treatment and densification of products. HIP improves material properties such as fatigue resistance, creep, ductility, and workability of parts designed for mission-critical applications

Very little can be manufactured without heat treating, a process in which metal is heated and cooled under tight controls to improve its properties, performance, and durability.

Aalberts surface technologies has decades of technical experience and state-of-the-art resources needed for advanced HIP-process applications. Our HIP units include the proprietary Quintus URC (Uniform Rapid Cooling) feature which combines HIP and solution heat treat & age in a single process. HPHT (high pressure heat treatment) streamlines the steps involved in material densification. Processed components cool uniformly, resulting in minimal thermal distortion and non-uniform grain growth for improved parts performance. The HIP's rapid cooling capability enhances efficiency and can reduce processing cost per unit.

If you require the highest quality, often with aggressive lead times, contact us. We can meet the stringent needs of the aerospace industry. Nadcap, ISO 9001:2015, AS9100D, ITAR.
Recent Chats
Share via email
Future: handle WhatsApp here
Future: handle LinkedIn here
Future: handle Twitter here
Share via Chat
Copy Link