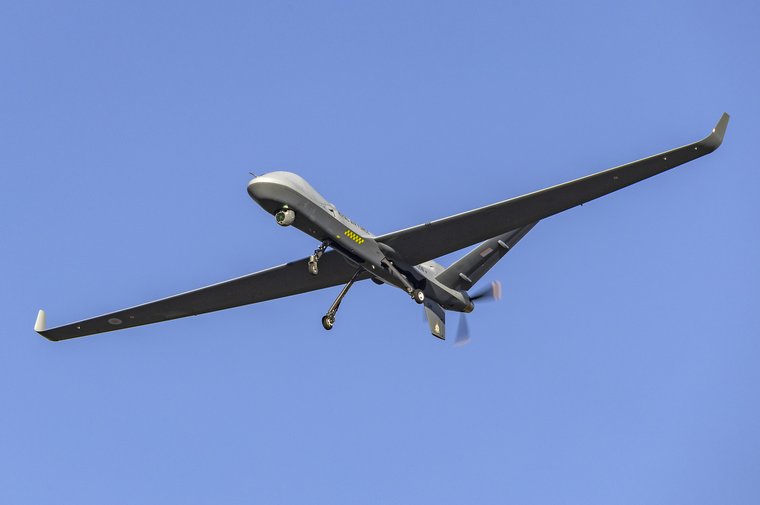 {"en":"Royal Air Force Protector UAS takes to UK skies"}')>
Royal Air Force Protector UAS takes to UK skies
Royal Air Force Protector UAS takes to UK skies
Details
More Products & Services
Description
A UK Royal Air Force (RAF) General Atomics Protector RG Mk1 surveillance, intelligence and precision strike UAS has taken to British skies for the first time, marking an important step in the country's effort to get its ordered fleet of 16 systems into service.
The aircraft arrived in the UK in September and the flight took place from RAF Waddington where it is undergoing a series of trials and tests before entering the RAF fleet. The systems are planned to replace MQ-9A Reapers.
The aircraft has been in RAF hands since mid-2021 but previous testing and evaluation was carried out in the US.
The MoD said in a statement in mid-2020 that weapons testing would take place in the UK.
While no detailed plans for the UK weapons tests were released at the time a Parliamentary statement confirmed they are set to begin following full operational capability of the aircraft. Protector is planned to be armed with MBDA Brimstone 2 air-to-surface missiles and Paveway IV laser-guided bombs.
The delivery of 15 further aircraft from General Atomics to the UK will be phased over two years. All aircraft are expected to in service by Jul 2025.
Recent Chats
Share via email
Future: handle WhatsApp here
Future: handle LinkedIn here
Future: handle Twitter here
Share via Chat
Copy Link